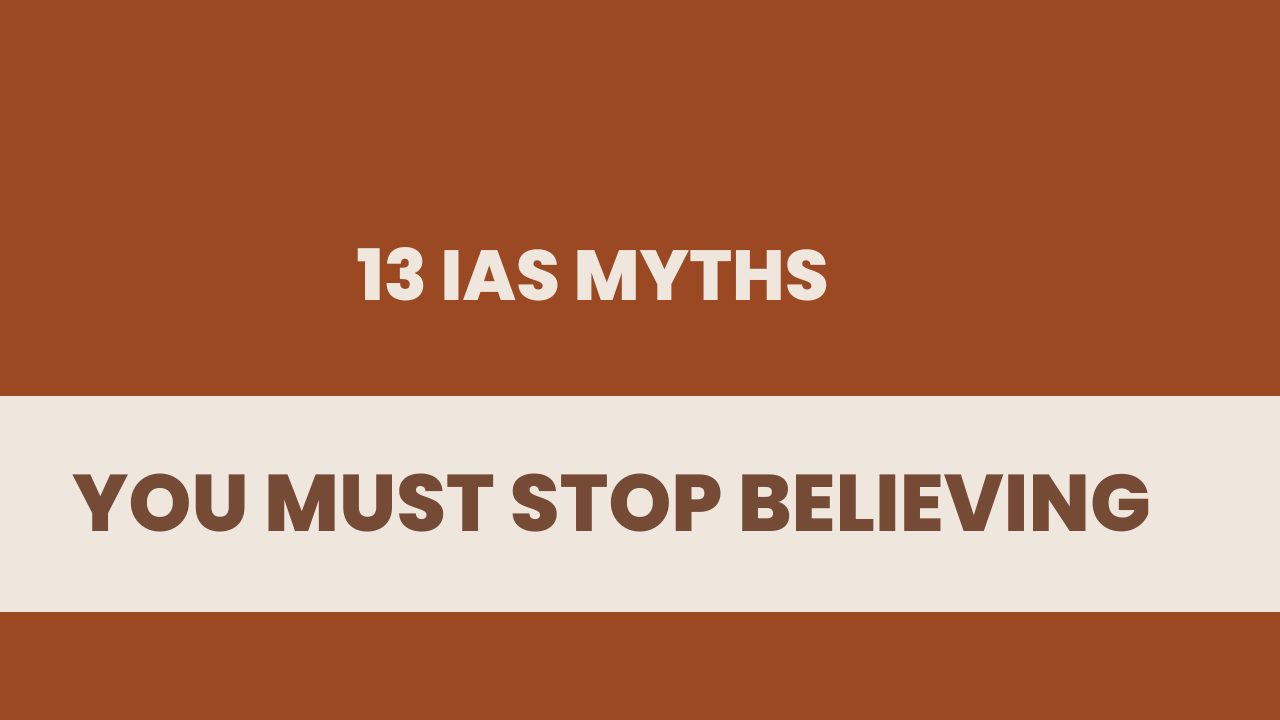 13 IAS myths you must stop believing
Civil Services is one of the most respected professions in the country. It offers a range of opportunities to serve the nation and make a difference. However, there are several myths and misconceptions associated with the Indian Administrative Service (IAS) exam and the preparation for it. In this blog post, we will be debunking some of the most common IAS myths and misconceptions about Civil Services. Read along to know some common myths about IAS here.
Top myths about IAS exam preparation
IAS Myths #1 Only a genius can prepare for IAS
Truth: The IAS examination is cleared by people from all walks of life. Therefore, the exam does not require you to be a genius; rather, it requires you to have a thorough understanding of the subjects, good analytical and writing skills, and a disciplined approach to preparation.
IAS Myths #2:  Coming to Delhi is mandatory for IAS
Truth: With the advent of technology, you no longer need to come to Delhi to prepare for IAS. Moreover, you can start preparing for the exam right from your home. With online test series, mentor support, and current affairs classes, you can cover the syllabus and prepare fully for the exam.
IAS Myths #3: You need to study 18 hours a day 
Truth: Studying for 18 hours a day is not required to clear the IAS exam. A minimum of 5-8 hours on a regular and consistent basis is required to clear the exam.
IAS Myths #4: Humanities students do well in CSE
Truth: While some of the toppers have come from humanities backgrounds, it does not mean that humanities students have an edge over students from science, engineering, or medicine. The truth is that the exam requires hard work, and students from any background can clear it with dedication and perseverance.
IAS Myths #5: Engineering students get an advantage 
Truth: The Civil Services exam has several stages, and CSAT is only a part of the Prelims stage. Therefore, its marks are not counted for cut-off determination. Moreover, the exam requires only the application of logic, not mathematics. In fact, many engineering students flunk CSAT because of taking it lightly.
IAS Myths #6: IAS Prep takes years 
Truth: Contrary to popular belief, IAS preparation does not require five years. It requires only one year of preparation before writing the examination.
IAS Myths #7: You need to quit your job for IAS Prep
Truth: It is not necessary to quit your job to prepare for IAS. Many candidates have cleared the examination while continuing with their jobs.
IAS Myth #8: Married women cannot clear IAS
Truth: This is far from the truth. Many married women have cleared the exam and got selected for IAS, IPS, and IFS through their hard work and dedication.
IAS Myth #9:  English fluency is a must to clear IAS Exam
Truth: Every year, many candidates who are not good with English get within 100 ranks. Candidates who have studied in Hindi or vernacular languages in school have also got under 50 ranks in the IAS exam.
IAS Myth #10: Without English, you fail in IAS Interview
Truth: Candidates can clear the interview by speaking very simple English or by opting for the interview in Hindi or another mother tongue languages.
IAS Myth #11: You cant appear in IAS with a tattoo 
Truth: Having a tattoo or being fashionable is not a bar for IAS. The only thing that matters is your hard work and dedication toward preparation.
IAS Myth #12: IAS is tough. Better try IBPS/Bank PO/SSC Exam/State PCS 
This is one of the most common myths among civil services aspirants. Many believe that they should start their preparation with less challenging exams such as Bank PO or SSC and then move on to the IAS exam. However, this approach is not advisable as it can waste a lot of time and effort. IAS requires a dedicated and focused preparation approach. It is better to prepare for the IAS exam and then appear for other exams if needed. IAS preparation gives you a much wider perspective which ensures that other exams become easy.
IAS Myths #13: IAS officers hold power
It is true that IAS officers hold important positions and play a critical role in the administration of the country. However, they are not the only ones with power. India is a democratic country, and the power ultimately rests with the people. IAS officers are accountable to the people.
Conclusion
The world of IAS (Indian Administrative Service) is shrouded in myths and misconceptions that often deter aspirants from pursuing their dreams of becoming civil servants. However, with a clear understanding of the selection process and the qualities required to succeed in this career, one can dispel these myths and embark on the journey to becoming an IAS officer.
It is important to understand that cracking the IAS exam is not just about intelligence but also about hard work, dedication, and a strong will to serve the nation. While coaching and guidance can be helpful, self-study and perseverance are essential ingredients for success.
Furthermore, it is a misconception that only students from elite institutions can crack the IAS exam. In reality, candidates from diverse backgrounds and educational institutions have been successful in this exam. What matters most is the ability to think critically, communicate effectively, and take quick and effective decisions in high-pressure situations.
Lastly, it is important to note that being an IAS officer is not just a job but a calling. It is a career that demands a high level of responsibility, commitment, and sacrifice. However, for those who are willing to put in the hard work and have a passion for public service, the IAS can be an extremely rewarding and fulfilling career option.